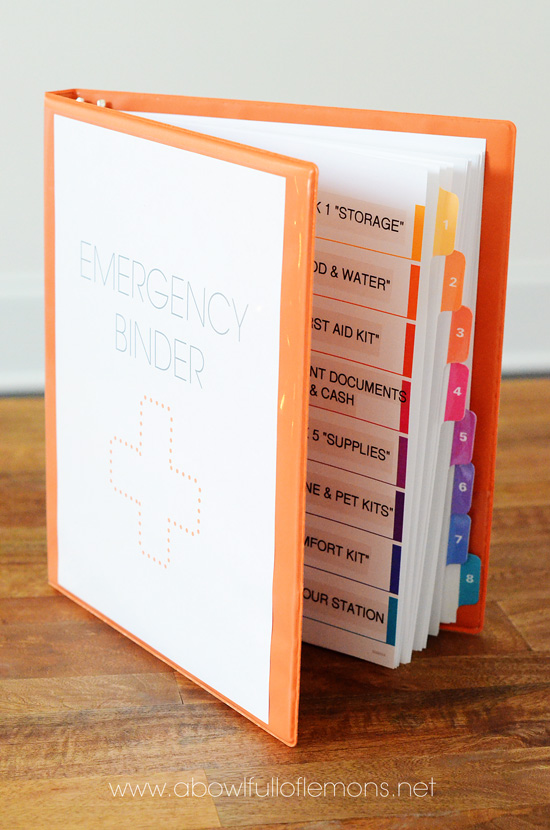 Gettin' it Together
The best way to prepare for an emergency situation is by having all of your information written down or printed out and in one place. Having all of your family members' and pets' identification – social security numbers, birth dates, cell phone numbers – and medical records – immunizations and prescriptions – in one place can make life easier on you in both emergency and non-emergency situations. In that same spot, you should have all of your legal and financial documents. This can include all of your bank account numbers and your credit card numbers. Some emergency-preparedness experts suggest taking an inventory of the belongings in your home, both by videoing and by writing down a record, for insurance and emergency purposes. The best idea is to keep these crucial documents in a fireproof safe, but you also want to think about quick accessibility for if you need to grab them in certain evacuation circumstances.
1. Obtain folders (one for each backpack). You will place copies of medical & family information in them.
2. Photocopy "Important Documents" (below) from your personal files.
3. Print & fill out printables & add personal information as directed.
4. Add 2 ($1) bills to each backpack every pay (at least $100/per person goal). You can keep the cash in another location where it's easy to access.
5. Print out a recent individual & family picture and place in each folder.
6. Designate an "Emergency Binder" to keep important family documents (including marriage license, birth certificates, SS cards, etc). You only need 1 binder for these documents.
What should I store my binder in?
Even though the idea is to grab the disaster kit and bring it with you, there is always the chance that you won't be home during an emergency. In this scenario you would still want to return home and find your binder in good condition (especially if your original documents are IN the binder). We recommend storing your binder in a
fireproof/ waterproof locked box
that is small enough to be transported with you in an emergency.
IMPORTANT INFORMATION TO HAVE IN EACH BACKPACK
1. Family Health Information – Medical history, medications, blood type, allergies
2. Family Emergency Plan – Where will everyone meet if there is an emergency? Have a plan and place it in each backpack.
3. Insurance Policies & Phone Numbers – Medical, Home, Dental, Life *Only needed in 1 backpack.
4. Important Emergency Numbers – Fire, Gas, Electric Co, Police, Poison Control, etc.
5. Family Numbers – Closest relatives, neighbors, baby sitters.
If you already have a binder at home, re-use it. Also, you can purchase inexpensive folders at Walmart for about 20 cents each. If you cannot afford to stash $2/week, stash what your budget allows. A little $ collected over time adds up to a lot!